Salesforce Integration
Increased Efficiency
---
Quickly send texts from within your Salesforce dashboard or customer account page for a seamless messaging experience with all of Sonar's functionality.
Desktop and Mobile
---
Harness the power of Sonar's mobile messaging without having to leave Salesforce. Our SFDC plug-in is available to use on the desktop and mobile applications.
Convenient Tracking
---
Automated, two-way syncing allows for the sharing and storage of data in both Salesforce and in Sonar so you have all the context you need to deliver a great customer experience.
---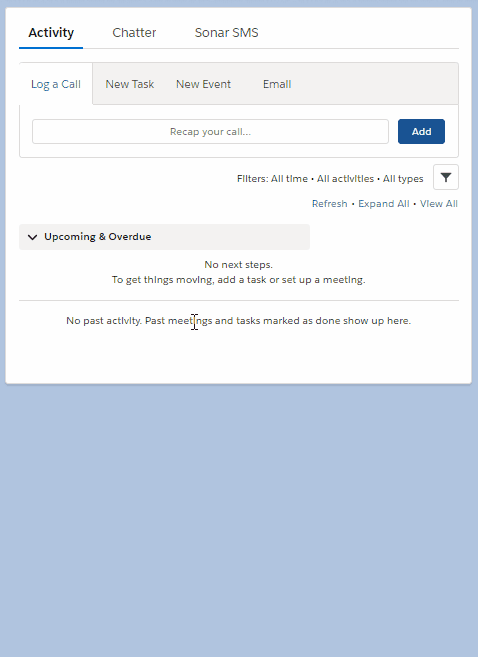 Seamlessly text from inside of Salesforce
This integration is an extension of Sonar placed conveniently within your contact pages in Salesforce. It simultaneously syncs your contact's number, conversation history, and properties directly into both Salesforce and Sonar. You get all the functionality of Sonar's text messaging platform and tagging capabilities straight into your main sales tool.
Get started
---
How To Use
Add Plug-in
---
Simply add the Sonar Text Messaging Plug-in to any of your Salesforce contacts.
Select Phone Number
---
Click the number associated with that contact to populate your chat history and various information archived from Sonar.
Work Inside Salesforce
---
Work directly in your Salesforce CRM without needing to leave the program to communicate with your customers. It's that simple!
Ready to streamline communication with your customers?
Get Started